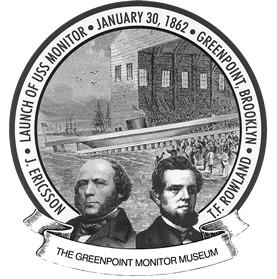 Official Logo of the Greenpoint Monitor Museum
Copyright © 2012-15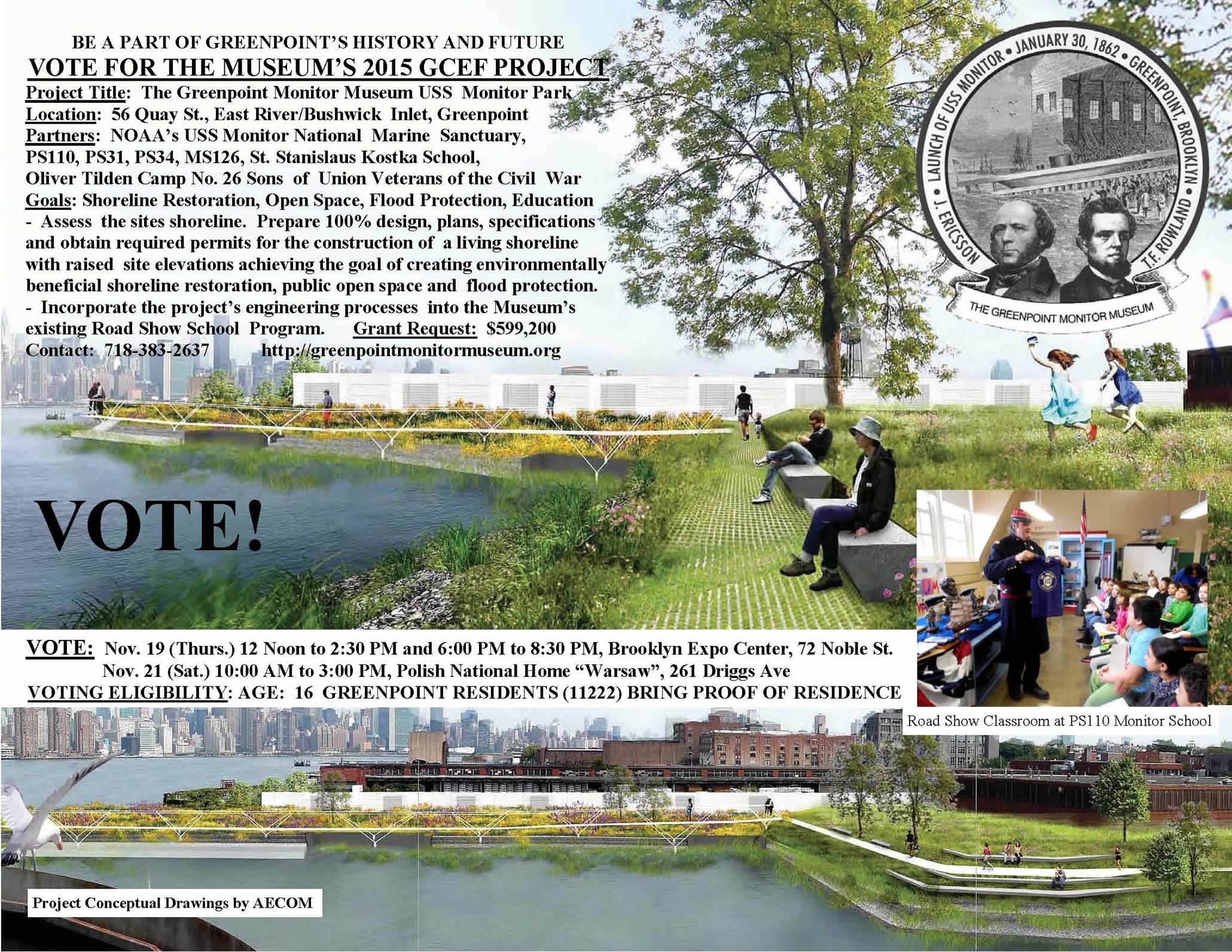 BE A PART OF GREENPOINT'S HISTORY AND FUTURE
VOTE FOR THE MUSEUM'S 2015 GCEF PROJECT
Project Title: The Greenpoint Monitor Museum USS Monitor Park
Location: 56 Quay St., East River/Bushwick Inlet, Greenpoint
Partners: NOAA's USS Monitor National Marine Sanctuary,
PS110, PS31, PS34, MS126, St. Stanislaus Kostka School,
Oliver Tilden Camp No. 26 Sons of Union Veterans of the Civil War
Goals: Shoreline Restoration, Open Space, Flood Protection, Education
- Assess the sites shoreline. Prepare 100% design, plans, specifications
and obtain required permits for the construction of a living shoreline
with raised site elevations achieving the goal of creating environmentally
beneficial shoreline restoration, public open space and flood protection.
- Incorporate the project's engineering processes into the Museum's
existing Road Show School Program. Grant Request: $599,200
Contact: 718-383-2637 http://greenpointmonitormuseum.org


Bushwick Inlet - Home of the Greenpoint Monitor Museum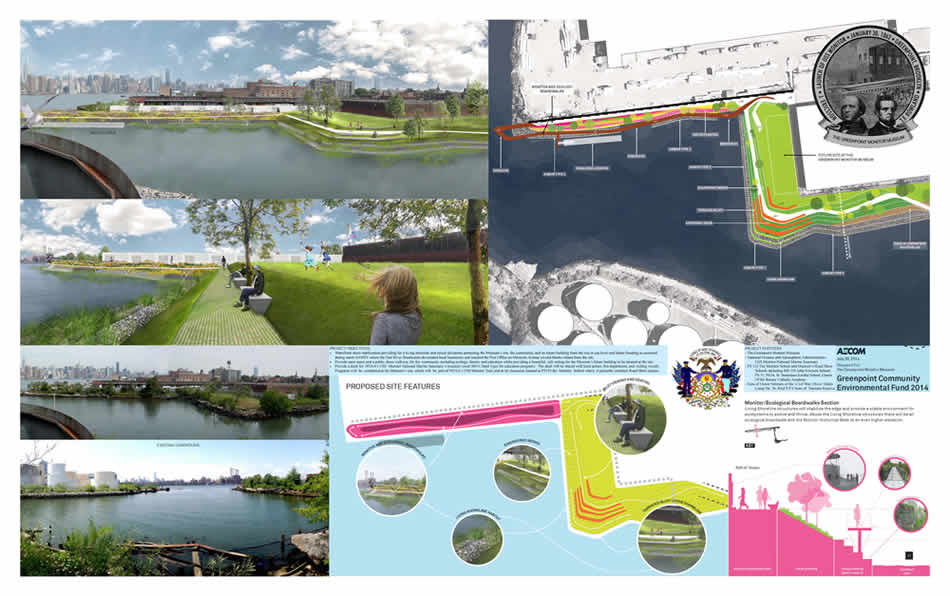 Looking to the future development of The Greenpoint Monitor Museum's land
on the Bushwick Inlet, Greenpoint, Brooklyn, New York.
FOR MORE DETAILS CLICK BELOW
The Greenpoint Monitor Museum Proposal Pamphlet
*FOR CLARIFICATION, THIS PROPOSAL IS NOT PART OF THE NEW YORK CITY PARKS DEPARTMENT PLAN FOR THE BUSHWICK INLET PARK.
IT IS AN INDEPENDENT PROPOSAL MADE BY
THE GREENPOINT MONITOR MUSEUM FOR ITS LAND.
Our Hometown


WELCOME TO THE
GREENPOINT MONITOR MUSEUM
WEBSITE!

The Museum is a STATE CHARTERED MUSEUM
honoring those who lost their lives
for this country.

Greenpoint's History

Built in Greenpoint

History & Purposes

Thanks to Our Friends




God Bless the Victims of
September 11, 2001.

- Founded in 1996 -
One of the goals of the Museum is to establish its
home on the shores of
Greenpoint, Brooklyn, where the
U.S.S. Monitor was built.





WEBSITE UNDER
CONSTRUCTION. "NEWSPAPER", "ROAD SHOW", "EVENTS", AND
"BREAKING NEWS" LINKS ARE ACTIVE AT THIS TIME.


2013
150th Anniversary of the
Sinking of the USS Monitor


2012
150th Anniversary of the
Launching of the USS Monitor

SEE THE
GREENPOINT MONITOR MUSEUM'S
LEGACY GRANT PRE-PROPOSAL
Our project will prepare the Museum's waterfront land for public access and we will have educational programs with NOAA's Research Vessel docked at the site. A bulkhead for flood protection for the Greenpoint/Williamsburg comunities. Solar lighting is also included in the pre-proposal. Greenpoint, Brooklyn, NY the birthplace of the USS Monitor!


LAST UPDATE:
July 8, 2015




Tax Free donations are accepted.
Donate Now