THE GREENPOINT MONITOR MUSEUM
"ROAD SHOW"
2007-2008 AWARD CEREMONY
OCTOBER 18, 2008

THE GREENPOINT MONITOR MUSEUM AWARD CEREMONY
HONORS 42 OF ITS "ROAD SHOW" STUDENTS
The Greenpoint Monitor Museum has been a New York State Chartered Museum since it was chartered on April 24, 1996.  It is also a 501-C-3 non-for-profit education corporation.  The Museum at present operates as a traveling museum through its "Road Show" whose instructors visit local schools dressed in Civil War uniforms.  The objective of this program is not only to bring an interactive Civil War history lesson to the classroom, but also to:

-awaken an interest in art, engineering, history, music and writing;  
-awaken a spirit of patriotism and an appreciation of  the sacrifices of those who fought for this country, not only during the Civil War, but all wars, emphasizing the terrible days of war as lived by the common soldiers and their sacrifices;
-awaken an appreciation of the part immigrants played to save our Nation and end slavery;
-awaken a spirit of community service through the example of the Grand Army of the Republic who championed for the cause of the Civil War Veterans and  the Civil War's Orphan Children.
This is accomplished through class content and assignments where children either write an essay of what they learned during the Road Show Class, write a letter to a Civil War Soldier or from a Civil War Soldier, or draw a picture of something covered during the class.  
The Award Ceremony was a happy day for students, their family members, teachers, members of the Church of the Ascension,  Oliver Tilden Camp No. 26 Sons of Union Veterans of the Civil War, Company I 83rd New York Volunteers Sons of Veterans Reserve  and The Greenpoint Monitor Museum as students received awards at The Greenpoint Monitor Museum's Seventh Annual Road Show Award Ceremony for the work they submitted from their class assignments.  Ten schools participated in this year's Award Ceremony.
The event was held at the Church of the Ascension, 127 Kent St. in Greenpoint, Brooklyn.  This Church was built by Thomas Fitch Rowland, builder of the USS Monitor at Continental Iron Works, through funds he received from the construction of the USS Monitor. 
After lunch and a slide show of the Museum's work on the Bushwick Inlet and its Road Show class visits, the group moved from the Church of the Ascension Hall on Java St. to the Church of the Ascension on Kent St.  A student color guard dressed in Civil War uniforms marched proudly carrying the American Flag at the opening of the  Award Ceremony.  A concert of Civil War songs and music  by Karen Olszewski, Church of the Ascension organist and Museum Treasurer, followed. 
Everyone waited anxiously for the presentation of  awards to the following children.
NORTHSIDE CATHOLIC ACADEMY
1st Place – Mark Tabala
2nd Place – Karina Campos
3rd Place – Dina Pena
Honorable Mention – Anita Jaramillo
ST. STANISLAUS KOSTKA SCHOOL
1st Place – Liam Creegan
2nd Place – Samantha Zabroni
3rd Place –  Elaina Pascarella
Honorable Mention – Robert Walczak
ST. NICHOLAS SCHOOL
1st Place – Maria Flores
2nd Place – Gabriella Citera
3rd Place – Carol Ramos
Honorable Mention – Anelis Lora
ST. CECILIA SCHOOL
1st Place – Joshua D. Simmonds-Raphael 
2nd Place – Lorella Pipoli
3rd Place – Victoria Drexler 
Honorable Mention – Jeniffer Zambrano
PS 110 – THE MONITOR SCHOOL
1st Place – Stephanie Perez
2nd Place – Nicole Navarrete
3rd Place – Konrad Zawistowski
Honorable Mention – Krystian Komaniecki ,  Matthew Stachowicz
PS 161M – PEDRO ALBIZU CAMPOS
1st Place –  Nicolle Minaya
2nd Place – Quincy Rosario
3rd Place -  Saramarie Figueroa
Honorable Mention – Carolina Batista,  Isis Ward
PS 34 – OLIVER H. PERRY SCHOOL
1st Place – Bartek Pasternak
2nd Place – George Canela
3rd Place – Brandon Wojno
Honorable Mention – Kamil Laskowski,  Kevin Turaczy
PS 31- SAMUEL F. DUPONT SCHOOL
1st Place – Adriana Dionarine
2nd Place – Melissa Autar
3rd Place – Anita Maksimiuk
Honorable Mention – Samantha Siebor,  Matthew Kluska
PS 196 – TEN EYCK SCHOOL
1st Place –  Carolina Rosario
2nd Place –  Nicole Martinez
MIDDLE SCHOOL  126  - JOHN ERICSSON SCHOOL
1st Place –  Christopher Ventura
2nd Place –  Ashley Jordan
3rd Place -  Patricia Tancula
Honorable Mention – Abigail Gomez
Congressional Certificates were also presented from Congresswoman Nydia Velazquez to the following for their continued assistance with the Road Show since the Museum's First Road Show in 2001:
Mother Superior Sr. Dorothea Jurkowski - St. Stanislaus Kostka School
Teacher Terry D'Attilio - PS 161M Pedro Albizu Campos Manhattan
Teacher Ann Kandratino - MS 126 John Ericsson School
Teacher Antoinette LoCascio - PS 110 The Monitor School
Oliver Tilden Camp No. 26 Sons of Union Veterans of the Civil War

SELECT THE FIRST PICTURE BELOW TO JOIN THE CEREMONY
Photos by Evelyn Matechek - Thank you Evelyn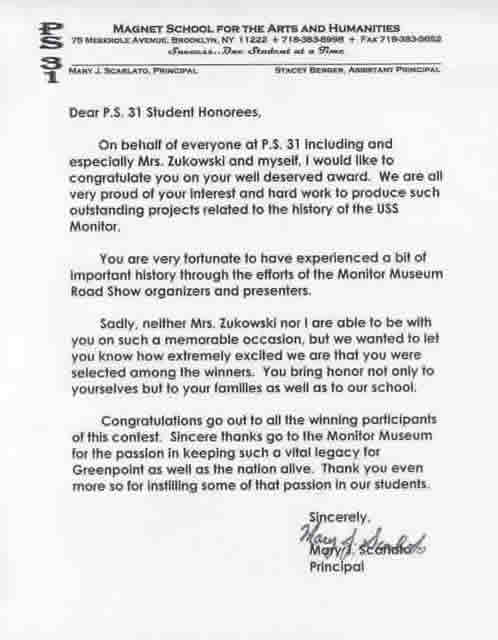 Greenpoint Monitor Museum Home Page
Greenpoint Monitor Museum Road Show Page
CONTACT US:
THE GREENPOINT MONITOR MUSEUM
P.O. Box 220378
Brooklyn, New York 11222-0378
718-383-2637
Janice Lauletta-Weinmann, President, Webmaster
George J. Weinmann, VP Webmaster

Copyright © 2002-2008 Janice & George J. Weinmann
All Rights Reserved.