THE GREENPOINT MONITOR MUSEUM
"ROAD SHOW"
March 28, 2003

Presented At:

P.S. 110 - "THE MONITOR SCHOOL"

Page - 6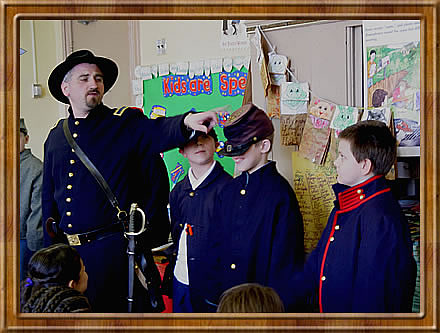 John points to the volunteer's forage cap insignia. The
cap insignia shows what branch of the military the
soldier belongs to.

ARTILLERY - CROSSED CANNONS
CAVALRY - CROSSED SABRES
INFANTRY - HUNTING HORN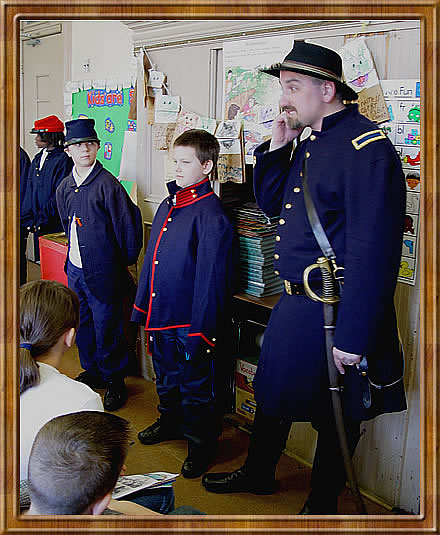 When you join the army YOU MUST OBEY ORDERS.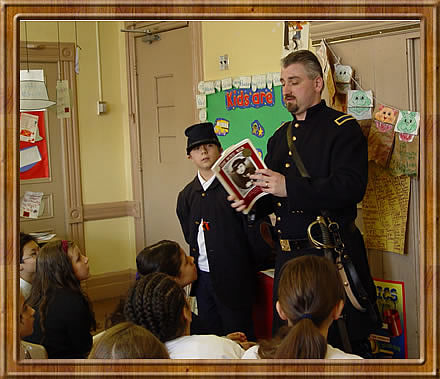 John introduced to the class the Civil War's youngest soldiers.
Among them were
Nine-Year-Old - JOHNNY CLEM - a Union Drummer Boy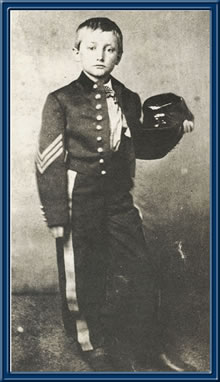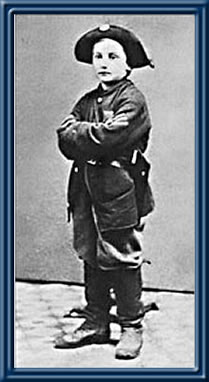 "JOHNNY CLEM"
Johnny Clem was born in Ohio in 1851. After his
mother died, he ran away from home to join the army.
He discovered that the army was not interested
in 9-year-old boys, but he still tagged along.
The men adopted him as their drummer boy.
As he was not officially enrolled in the army,
the officers chipped in to pay his $13 a month salary.
He later was officially enlisted intoCompany C, 22nd Michigan,
and received his own pay. At the Battle of Shiloh
his drum was smashed by cannon fire. After this battle
he became known as "Johnny Shiloh". At the
Battle Of Chickamauga, Johnny rode an artillery caisson
to the front and held a musket that was trimmed to his size.
A Confederate officer ran after the cannon he rode with,
and said, "Surrender you damned little Yankee!"
Johnny fired his musket, wounded the officer and took
him prisoner. After this battle he was called the
"Drummer Boy of Chickamauga". President U.S. Grant
appointed Johnny to the Army military academy at
West Point, but Johnny did not have the neccessary
academic background. Since he had been fighting
the Civil War instead of going to school, Johnny
failed to pass the entrance exam. In 1871
President Grant decided to appoint Johnny
as a 2nd lieutenant with the 24th Infantry-a black unit.
Johnny retired from the army in 1915 with the rank
of major general. Johnny Clem died at the age of 85
in San Antonio, Texas in 1937. He was buried at
Arlington National Cemetery in Washington, D.C.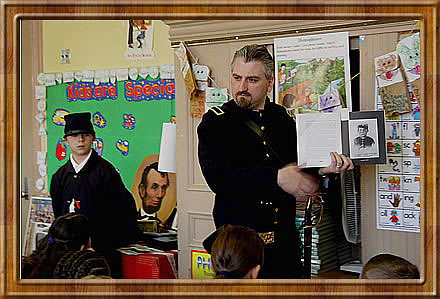 and
EDWIN JENNISON - a Confederate Drummer Boy.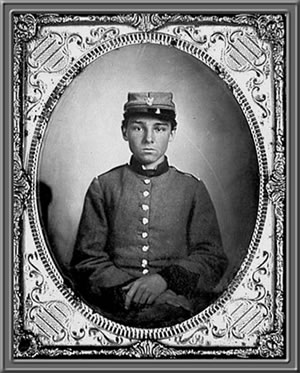 Private Edwin Jennison of the Georgia Infantry was
killed at the Battle of Malvern Hill, Virginia, on July 1, 1862.
During this battle the Union army did not use
trenches. Instead they stood in battle formation.
They were backed by 100 cannons in front and
another 100 plus on the flank.
The Confederates charged and suffered more
than 5,300 casualties including Pvt. Jennison.


Training is complete John's new recruit is ready.
Click to Page 7



Return to Page 5



THE GREENPOINT MONITOR MUSEUM
P.O. Box 220378
Brooklyn, New York 11222-0378
718-383-2637
Janice Lauletta-Weinmann, President, Webmaster
George J. Weinmann, Webmaster

Copyright © 2002 Janice & George J. Weinmann
All Rights Reserved.